CLOSES AT DUSK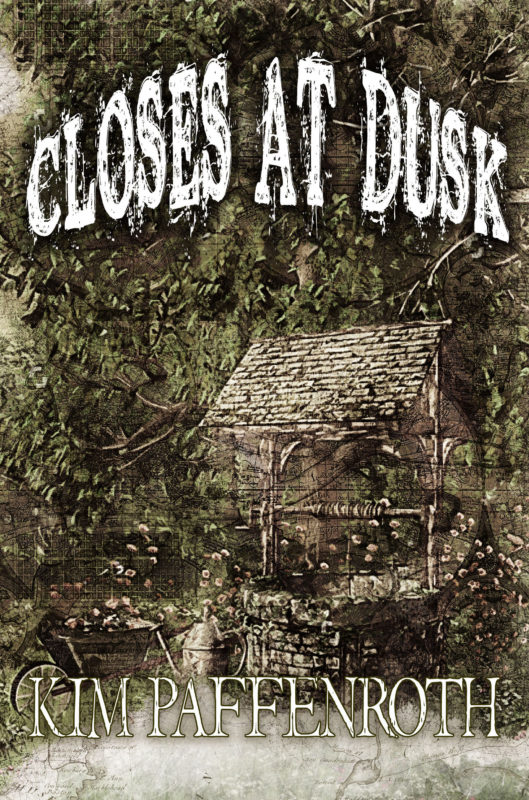 Discover Kim Paffenroth's haunting novel of after-life discovery and family ties...
Christoph Hahn came to the United States to build a new life after WWII devastated his homeland of Germany and scattered his family. He found a good job, a beautiful wife, and built a little storybook land along a busy highway – a wooded idyll that generations of children loved in the 60s and 70s. Now it's 2007, and he's dead – but not gone. Instead, his spirit is condemned to linger, struggling to understand and atone for his mistakes.
Order Now!
Endorsements
The genre's esteemed professor of zombology tries his hand at something a little different, and proves he can handle it.
If you're looking for zombies, sorry. How about some ghosts? Including the ghost of an angry old man, who's not ready to move on … and a few rather unusual spirit guides, including Lee Harvey Oswald and a rabbit.
Closes At Dusk is a story that spans decades, oceans, generations, secrets, shames, love, hate … and the ultimate boundary between this world and the next … while remaining intimate and personal. The writing is smooth and deftly handled, crossing seamlessly between eras and characters, making them all vivid and believable.
Once upon a time, there was a little boy named Christoph, who lived with his mother and father and big sister in WWII Germany. Then the bombs came. Tragedy struck. Years later, an older Christoph made his way to America like so many other immigrants eager to start a new life.,p> His new life eventually took the form of his own little theme park, The Enchanted Mill Forest, where families could tour charming scenes right out of their favorite fairy tales. But Christoph's own family didn't have much of a happily-ever-after; the death of his young wife left him struggling to raise their son alone.
Now, years later, the storybook theme park has closed – and so has its rather less popular addition, Holy Book Land. Christoph's son, Ben, looks after the place and makes occasional repairs against the damages wrought by local hooligans.
Ben's own family life isn't in great shape either. He and his wife haven't been getting along. Their teenage daughter does what she can to help hold the household together, while their son is prone to nosebleeds and other nervous ailments.
And Christoph has died. But, instead of heaven and the reunion with his wife that he hoped for, and instead of the torments of hell that he feared, he finds himself caught in a strange halfway place, where he can observe, and learn some uncomfortable truths.
He also discovers, to his dismay, the dangerous power his emotions can have on the living. So, while there may not be zombies, there's a bit of violence and bloodshed for the more carnage-oriented among you. Enjoy!
Disclosure of Material Connection: Some of the links in the page above are "affiliate links." This means if you click on the link and purchase the item, I will receive an affiliate commission. I am disclosing this in accordance with the Federal Trade Commission's
16 CFR, Part 255
: "Guides Concerning the Use of Endorsements and Testimonials in Advertising."