D.R.E.X. Blackout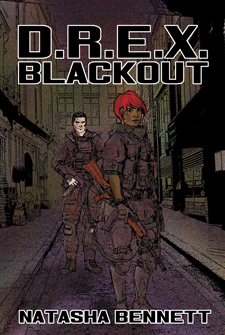 After finding his family murdered, Matthew Burke is arrested and sentenced to life in prison. The next day he is mysteriously released and given a briefcase of money.
Needing answers, Matthew finds a pile of old documents in his house and discovers his wife was once part of an organization called D.R.E.X, who were responsible for hunting and killing supernatural creatures. Even though D.R.E.X had been shut down for years, his wife was murdered just after she tried to reach them. Matthew reluctantly joins with the remnants of her old organization and investigates a new problem arising in France. But the more he discovers, the more he realizes how few people he can trust…
Order Now!
Endorsements
I really enjoyed D.R.E.X. Blackout. The X-files fan in me was screaming "I want to believe!" as I dove headfirst into a world of secret (government?) agencies, superhuman / supernatural creatures, and the fight to save mankind from annihilation.
As a main character, Matt was immediately likable. Following the murder of both his wife and daughter, Matt is convicted and sent to prison. He didn't do it, of course, and before he can be transferred to lockup, he is mysteriously exonerated and set free. The people behind his sudden change of fortune are none other than D.R.E.X. Before he knows it, Matt is sucked into their organization. To his thinking, he's there for no other reason than to find those responsible for murdering his family. But the leader of D.R.E.X. may have other plans for him.
I really enjoyed Ms. Bennett's tale. She did a great job painting a picture of a shadowy government agency, one we know we shouldn't trust but are forced to regardless. Matt's new D.R.E.X. teammates (Ryan and Lyndsay) were great characters too.
[...]In the grand scheme of things, I really enjoyed this book. Clearly leaving room for more D.R.E.X. exploits in the future this story concludes nicely, with no cliffhanger. Fans of sci-fi, horror (although the horror element here is mild), and secret agency stories would be well-served by this book.
Disclosure of Material Connection: Some of the links in the page above are "affiliate links." This means if you click on the link and purchase the item, I will receive an affiliate commission. I am disclosing this in accordance with the Federal Trade Commission's
16 CFR, Part 255
: "Guides Concerning the Use of Endorsements and Testimonials in Advertising."