SEPARATE AND SUCCINCT, DISPARATE AND DISTINCT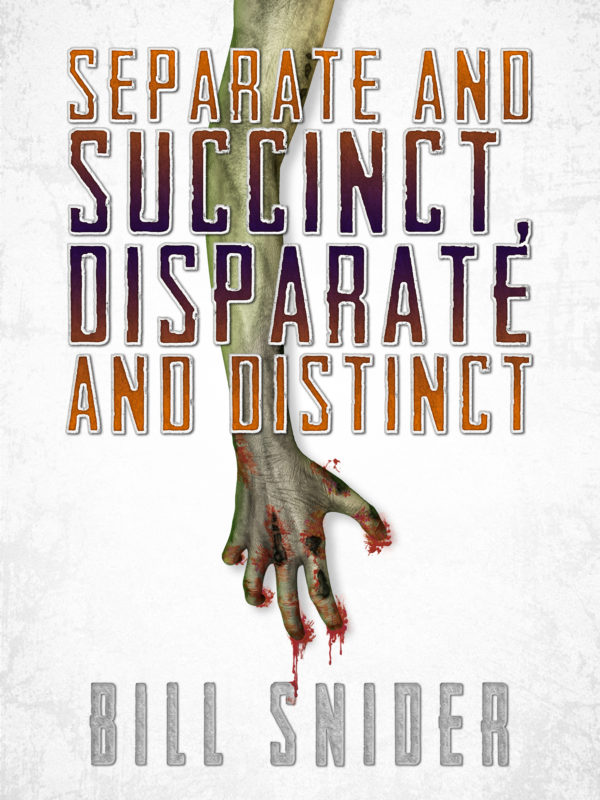 ... lest the insanity leak out and infect the planet - is a collection of my weird, my mind as it is splattered onto the page. One must read with care, for the depths of the mind are shallow, entranced, bewitched by shadows and happenstance.
Order Now!
About the Book
Separate and Succinct, Disparate and Distinct 'Äď a collection of bits and pieces of Bill Snider'Äôs weird mind splattered onto the page. He warns that one must read with care, for the depths of his mind are shallow, entranced, bewitched by shadows and happenstance. Tread with patience, for his dreams are laid out in quiet array, the sharp tack of whisper and thought spearing each moment for gain, or for naught. One hand clap and prepare to dive right in – the music that is his soul, is ready to dance for you 'Ķ
Endorsements
I really enjoyed this journey into the wonderfully warped and fragile sanity that is Bill Snider'Äôs subconscious mind. It'Äôs full of bright little insights 'Äď deliciously dark perspective 'Äď and nightmarish daydreams made manifest, in a tantalizing tidbit offering that will keep you coming back for...just one more bite. I particularly enjoyed 'ÄėDark Places'Äô and 'ÄėHumanity'Äô 'Äď but then again, I'Äôm sociably twisted myself and pay close attention to the voices in my head. And being an avid Star Trek Fan 'Äď I loved the deftly added reference by none other than Dr McCoy in, 'ÄėWaiting'Äô. For those who like their prose to prickle and fester, and eat its way under your skin, I'Äôd suggest you read this offering at bedtime on a dark and stormy night 'Äď with a side serving of cheese. Bravo Sir! See you on the other side.
Disclosure of Material Connection: Some of the links in the page above are "affiliate links." This means if you click on the link and purchase the item, I will receive an affiliate commission. I am disclosing this in accordance with the Federal Trade Commission's
16 CFR, Part 255
: "Guides Concerning the Use of Endorsements and Testimonials in Advertising."