THE HORNED ONES – CORNUCOPIA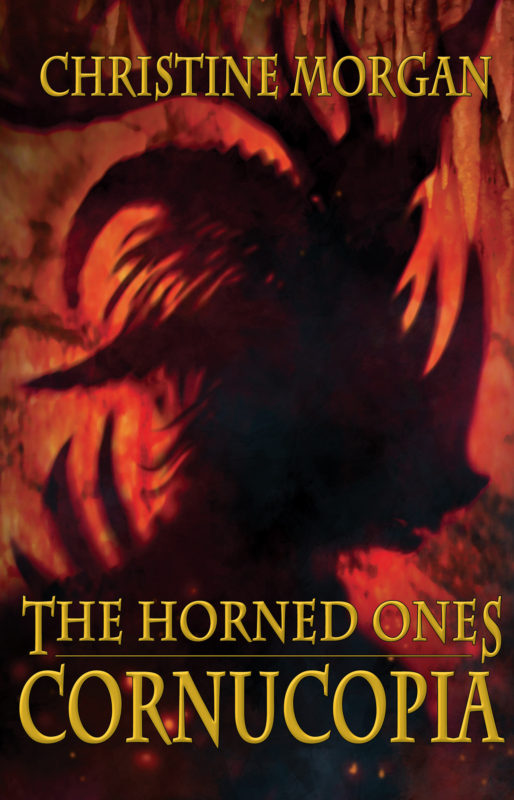 Something else hides in Cornucopia's depths. Something that's been waiting for an opportunity like this.
Cornucopia Caverns. A safe, fun, family-friendly show cave destination where visitors can enjoy guided tours of subterranean chambers and spectacular limestone formations in a nice cool reprieve from the California summer heat. Until the disaster. Until the rocks fall, and the blood flows, and the lights go out. Until three groups of tourists are trapped in the darkness, hoping for rescue, trying to find a way out, hoping to survive. But they aren't alone down there. The caverns reach deeper and farther than anybody knew.
Order Now!
Endorsements
Exciting tale of a collapse of an underground cave system, the dozens of people trapped beneath the earth, the rescuers attempts to save them, and some other less savory activities. I had a little bit of trouble keeping all the characters straight at some points, but Morgan has a deft touch at characterization, creating well-rounded, recognizable characters that we can latch onto quickly. And, there are THINGS down in those caves- so be prepared for some horrific happenings! Christine Morgan knows it's the details that hook a reader, and throughout she peppers her story with descriptions and minutiae that enrich the story. There are thrills, suspense, adventure and horror aplenty, so if you like fast paced novels that keep you glued to the page from start to finish, check it out!
The Horned Ones: Cornucopia is a deliciously wicked horror tale set within the claustrophobic confines of the Cornucopia Caverns of the title. Following a cave in, hordes of tourists are trapped underground with minimal hope of escape. Then, one by one, the children start to disappear. What follows is a story that twists and turns all over the place much like the cavernous setting of the title. The author has a deft touch with characterization and plotting but doesn't skimp on the horror or "Ewwwwww" quotient as I like to call it. The Horned Ones of the title are a race of ancient beings that once populated the earth but have been reduced to dwelling in the dark places of the world. Now, with the help of a rather disturbed individual, they have a plan to reclaim what was once their own. And it doesn't bode well for those who have been taken. Especially if you are abductee number 7! To say more would be to spoil what is a rather tasty novel from a writer who is definitely on my radar now. Well worth having a read if you like dark horror fiction!
When I began this riveting book, I thought I was reading an adventure/thriller, a story of courage (and the opposite, fearful selfishness) in the face of a natural disaster--an underground cave system partially collapsing, trapping three full tours of curious tourists and their guides. Well, I did get all that, and in the meantime watched the human condition unfold, as certainly times this troubling bring out the true character of any individual, and the characters in "The Horned Ones: Cornucopia" certainly run the continuum from almost all good to almost all evil, including "bad guys" who actually demonstrate altruism, and other bad guys the reader will hope never to encounter. But this novel is not just a thriller--this novel is also scientifically bent, exploratory, and contains a great deal of horror, the kind of horror that made my hair stand on end and chills run tiny spider legs along my spine (perhaps, considering the story's locale, tiny albino cave eyeless cave spiders). The horror that rules the last portion of the book is virtually unforgettable--and left this reviewer hoping for a sequel.
Disclosure of Material Connection: Some of the links in the page above are "affiliate links." This means if you click on the link and purchase the item, I will receive an affiliate commission. I am disclosing this in accordance with the Federal Trade Commission's
16 CFR, Part 255
: "Guides Concerning the Use of Endorsements and Testimonials in Advertising."