THE MONSTRANCE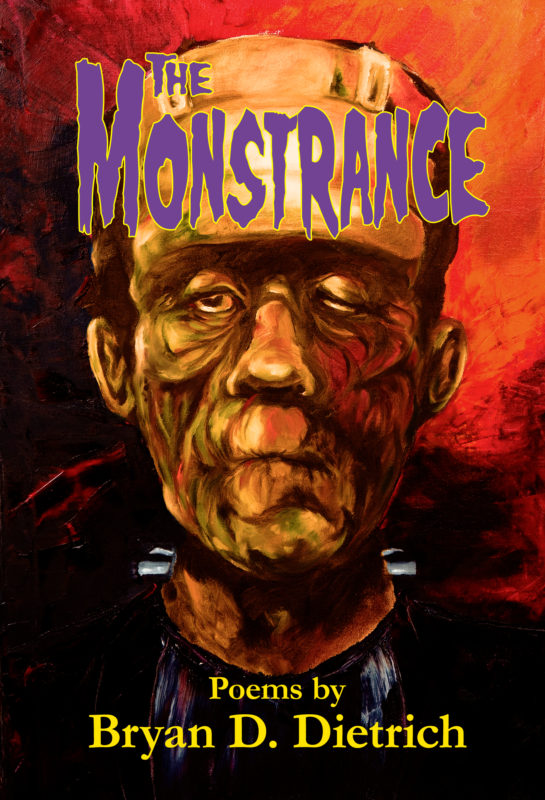 Heartwarming and horrifying, love itself is resurrected here and set striding, a lost creature, livid and longing, but never alone.
The Monstrance, Bryan D. Dietrich's sixth book of poems, is a love story. Set in the world of James Whale's 1931 film version of Frankenstein, these poems document the lives and loves of a monster and a gypsy, a huffy hunchback, a lame priest, and the not-so-mad scientist himself. What begins with test tubes and Tesla coils ends in grace and graveyard picnics. Heartwarming and horrifying, love itself is resurrected here and set striding, a lost creature, livid and longing, but never alone.
Order Now!
Endorsements
Frankenstein As You Never Knew Him Bryan Dietrich is a contemporary master of blending pop culture with elegantly crafted free verse. This book is in the same vein as his others, like Universal Monsters, Krypton Nights, Love Craft, and Prime Directive. Highly recommended.
– RR
Piece by piece. With unfailingly canny prosody, an uncommon ear for the music of our language, and a profound insight into the human predicament--that of our being, despite our illusions, composite--the amazing Mr. Dietrich has cobbled together a very likely figure for our puzzling composition, i.e., the monster himself.
– Scott Cairns
A Dark Journey of Creation For the past 20 years, Dietrich has been studying and writing about monsters and their makers. When I read first read The Monstrance I was taken back to late-nights watching Count Gregore's "Nightmare Theater"; the imagery coming straight from the black-and-white TV my brother and I treasured growing up in rural Oklahoma. However, The Monstrance is more than imagery and fancy, it is a tale of the making and un-making of the demons that define our inner fears and self-loathing. In The Monstrance, Dietrich has woven a story of strangeness and being an outsider and the mythic journey we all take seeking acceptance. This is Dietrich at his best.
– John
I love poetry that pushes me to see the profound through the skillful marriage of words. I love it when poetry forces me the to see a landscape that I thought I knew in a completely different way. In "The Monstrance" Bryan Dietrich does just that - using the familiar images of the Frankenstein monster to explore the most profound questions of life and becoming alive. I am a great fan of Bryan Dietrich's past volumes of poetry and he does not disappoint me in this, his most recent volume. While I am not a fan of science fiction, per se, I have become a tremendous fan of the poetic fiction of Mr. Dietrich. In this volume he makes me smile ("The Monster Learns To Read"), wince ("On the Evolution of the Human Gait"), and be brought to the verge of tears ("The Monsters Last Lesson"). This volume jumps and dances around perspectives, spinning through deep questions of hate, love, lust, and eternity deftly - almost in the same poetic breath ("The Monster and the Little Girl"). I wish that I was better trained in literary criticism. This review should be more profound and informative for those who need to pick apart the bones of poets and their works. I only know that when I am moved to read and re-read, a masterful poet must be lurking behind the words. In "The Monstrance", a master-poet clearly is.
– George Smith
Decomposing Recomposing a Pop Cultural Icon: At first blush, Dietrich's collection of poems looks like a work of fan fiction. This book is very far from that. Yes, Dietrich uses the Frankenstein monster as the dominant image for his collection. However, he does much more than demonstrate his affection and reverence for this important pop culture icon. This collection throws some flickering torchlight on the cycles of birth, life, love and death. It's part philosophical meditation, part a campy romp through allusions both classy and trashy, and ever the gallery of excellent poetic form on the word, image, and storytelling level. These observations are made through a variety of voices from the Frankenstein myth: the monster, his gypsy lover, a priest, and the scientist. But these characters are transmogrified by Dietrich's creative genius. They exceed the boundaries of Shelley's novel and Whale's classic film adaptation. Dietrich uses these works surrounding this icon to decompose and recompose ideas related to creation / creativity, love, sexuality, identity, desire, death, and more. Yes, this is a very smart book, but it's paradoxically accessible. In fact, I am mesmerized by Dietrich's ability to create a fantastical world, more strange than I could ever forge myself. For example, this excerpt from the poem "The Monster, The Master and The Windmill": "Here trapped between fire, fall, and windmill blade, unaware, perhaps, of the Quixotic irony fate has found them in, they struggle. One machine, one man. One maker, one unmade."
– Karen D. Austin
Disclosure of Material Connection: Some of the links in the page above are "affiliate links." This means if you click on the link and purchase the item, I will receive an affiliate commission. I am disclosing this in accordance with the Federal Trade Commission's
16 CFR, Part 255
: "Guides Concerning the Use of Endorsements and Testimonials in Advertising."