Bailey | May 11, 2018 | Comments 0
When:
August 3, 2018 – August 5, 2018
all day
2018-08-03T00:00:00-04:00
2018-08-06T00:00:00-04:00
Where:
DOUBLETREE BY HILTON
50 Kingsmill Road
Williamsburg, Virginia
23185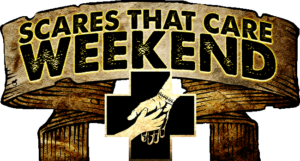 Dark Recesses Press is proud to be a vendor at the SCARES THAT CARE Charity Weekend event.  You will be able to find us, and copies of all our books in the first floor vendors room. Bailey Hunter will be on hand to chat you up, and give out hugs!  We're hoping that a couple of the Dark Recesses author family will also be on hand to sign books. We will update as soon as this is confirmed.
" "Scares That Care!" Inc., is an IRS approved, 501(c)(3) charity. Founded in 2006, "Scares That Care!" to date has raised and donated over $120,000 to organizations that treat sick children and families with a child affected by illness, burns or women fighting breast cancer. "Scares That Care!" is also proud of the fact that we are an all volunteer organization, with no salaries or paychecks issued to any staff member involved with the charity. If you'd like more information, please visit our home website scaresthatcare.org
The Scares That Care Charity Weekend was originally a horror event designed to delight horror fans while benefiting those in need. Now, because of the increasing attendance from fan bases outside of horror, we are starting to transition to a genre event and will continue to morph as feedback points in the direction to continue positive growth."
Filed Under:
Comments (0)